Hinge Axis gives you the power to manage your Amazon Marketplace from a single comprehensive management dashboard.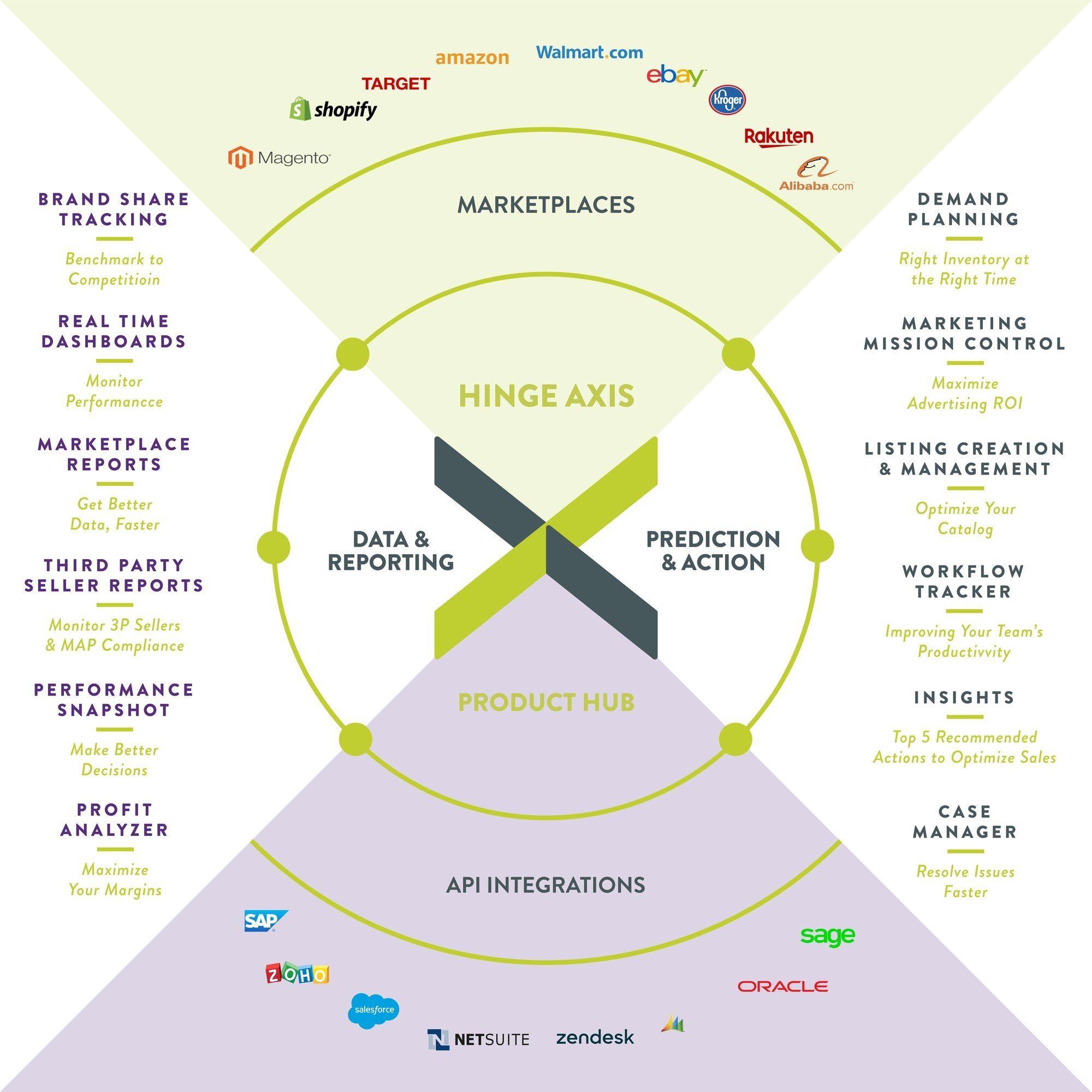 The Convergence Of Ecommerce Expertise & Technology
HINGE COMMERCE has developed this software leveraging its 150+ years of collective Amazon and eCommerce experience, across over 150 brands and $600 million in total gross sales.
The HINGE Axis software is unique in that it consolidates critical functionality in one place, enabling sellers, brands, manufacturers, and distributors to manage all aspects of their eCommerce activities. HINGE Axis is the convergence of eCommerce marketing, sales, operations, and reporting in a single intuitive command center.
HINGE Axis is designed to integrate into third party systems that already exist within sellers' eCommerce ecosystems. Axis can also ingest third-party data to enrich the insights further. In the initial release, the software will focus on delivering functionality for Amazon. However, over the next few months, the platform will expand to cover other marketplaces and eCommerce sites, such as Walmart.com, Target+, Shopify, eBay, and others.
"HINGE COMMERCE is excited to offer the HINGE Axis platform to simplify the management of eCommerce businesses across all channels. As a top eCommerce marketplace agency, we've been running large-scale eCommerce businesses for over five years. We recognize that the existing eCommerce tools are highly fragmented and often built to solve a specific problem on a single channel and geography. We have intentionally designed HINGE Axis to be a multi-channel, global platform to cut through these inefficiencies. With just a single, enterprise platform, Axis provides transparent insights, clear actions, and successful business results for eCommerce. We believe HINGE Axis will be a game-changer for the industry."
Dean Seifert
President/COO
HINGE AXIS FEATURES & FUNCTIONALITY
Hinge Axis delivers all of your Amazon and Ecommerce Marketplace data straight to your fingertips with direct access to reports that can be viewed on-demand or scheduled over time.
Monitor Performance In Real Time
Hinge Axis delivers all of your up-to-date Amazon data straight to your fingertips with direct access to reports.
The Hinge Axis Marketplace Reports are easy to access from a single dashboard. We offer Scheduled Reports, which follow a standard reporting schedule. We also offer On Demand Reports, where you can customize your own reporting schedule (Daily, Weekly, Monthly, Quarterly).
We consolidate your Amazon sales, orders, inventory, advertising, and traffic data into weekly snapshots. These snapshots give you the insights you need to take immediate action and improve your business performance.
Monitor Your Third-Party Sellers
Do you struggle with unauthorized sellers or have issues tracking MAP compliance on Amazon? Our automated Third Party Seller reporting can help you identify unauthorized 3P sellers, track their contact information (where possible), and track MAP violations.
Automated Scorecard Of Your Listing Quality
Do you want to objectively assess which of your Amazon product detail pages need copywriting improvements, graphic design or enhanced A+ content? Have your listings been corrupted and you want to quickly flag which ones have been changed? Our Automated Listing Quality Audit can track all of the elements from your Product Pages, and show you which listings have the greatest opportunity for optimization.
The Hinge Axis Profitability Analyzer is designed to take the guesswork out of measuring your Amazon overall profitability. It will also help you rank all of your SKUs based on their individual margins.