WHICH RETAIL CHANNEL(S) SHOULD YOU SELL ON?
The marketplace(s) that you select to launch on should be determined by the category or product, and the region/country that you are planning to sell in. Each channel is unique, and each channel requires different operational considerations and strategies — you may not have the organizational bandwidth to launch on multiple platforms. Amazon is the behemoth in the e-commerce space, with over 49% share of the online sales – more than the next nine e-commerce sites combined! Over 92% of US online shoppers shop on Amazon, and there are now over 95MM Amazon Prime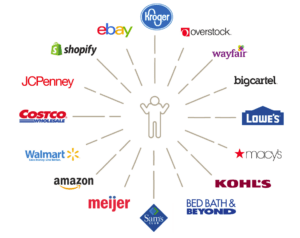 members. In fact, 55% of online shoppers start their search Amazon, doing price comparisons and reading reviews, even if they ultimately shop elsewhere. Given this high usage rate, any brandconsidering e-commerce should give serious consideration to leveraging Amazon. However, Amazon fees, promotion schedule and fulfillment requirements are complex.  Success on this channel requires specific expertise.
‍
SUCCESS ON ANY E-COMMERCE PLATFORM REQUIRES TAILORED OPERATIONAL PROCESSES AND STRUCTURE.
Below are some questions to ask:
– Do you have production/sourcing capacity to deliver large purchase orders?
– If you sell to other distributors or retailers, do you have a MAP (Minimum Advertised Price) policy in place so they cannot undercut your pricing?
– Do you know how many unauthorized sellers are already selling your product?
– Do you have a way to monitor, govern, and enforce authorized sellers in the future?
– Do you have a sufficient budget dedicated to marketing, to drive new customer acquisition, sales growth, brand awareness, and improved search ranking?
– Do you know the internal resources required to pick, pack and ship orders? Have you explored other fulfillment options?
– Have you factored in warehousing fees (which rise during the busy months of October through January)?
– Do you have a system to accurately forecast your inventory needs?
While this may feel like a lot to consider, having answers to these questions before you tackle more executional elements (such as pricing, pack sizes, category placement, etc.) will put you in a better position to win in the long-term. HINGE COMMERCE can help!  We offer a complete suite of services to help you strategize and execute to WIN in the digital commerce space.

Reach out to our consulting team at contact@hingecommerce.com – we can help you uncover a winning strategy!
HINGE COMMERCE's purpose is to connect companies to customers, accelerating our clients' worldwide digital commerce.  We operate as an extension of our clients' teams, providing world-class creative design, channel management, logistics, data analytics, and technology solutions.
What's your reaction?
0
Smile
0
Shocked
0
Cool
0
Sad
0
Laugh