In the US, eCommerce has grown by 32.4% since the start of the pandemic, driven by consumers' desires to socially-distance, avoid retail stores, and relieve some stress and boredom from too many Zoom meetings.  The "endless aisles" of eCommerce means that consumers have easy access to millions of products that meet their specific needs.
There are tens of millions of products are sold online in the US alone.  This means that brands have to ensure that their products can be found by consumers (via search), that consumers understand the product benefits and functions (via the product detail page), and that consumers are persuaded to buy (i.e., conversion).  Best-in-class digital content is critical to enabling all this to happen!
IT STARTS WITH GREAT COPYWRITING (AND KEYWORDS)
The secret to great copywriting is the artful blend of channel-specific keyword research, coupled with persuasive and clear writing, all while staying true to the integrity of each brand's voice.  HINGE COMMERCE's industry-leading method leverages marketplace-specific keywords to improve your search rank within the category and gain more visibility to shoppers who may not otherwise know your brand or product.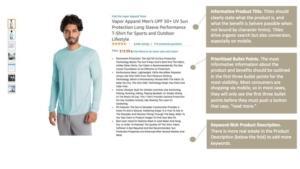 Product Title:  On most channels (Amazon, Walmart, Target, Chewy, and others), the product title has the most impact on organic search results.  Beyond driving search, the product titles are often the only thing consumers can read when they do an initial search (before they click on any one product).  The title may also be the only thing consumers can see after they click on an item from their mobile phone.  All this means that titles also drive conversion.  As a result, having a compelling title with consumer-meaningful benefits (as well as driving keywords) is critical.  There is limited real estate here, so make it count!
Bullet Points:  The product title is almost always followed by bullet points or product details.  In the US, 53% of eCommerce shopping is done on mobile devices though.  This means that most consumers may only be able to read a few of the bullets before clicking "See more."  Given this, to help drive conversion, the bullet points should be put in priority order based on what may be most compelling to consumers (even though the keywords in all of the bullet points will be leveraged to drive search).
Product Description:  Depending on the channel, the Product Description may be found below the bullets and the product images.  Typically, this area sits "below the fold" (meaning that you have to scroll to find it), but because there are fewer character restrictions, there is more room to incorporate keywords and help drive search.
Backend Keywords:  Currently, backend keywords are unique to Amazon. Backend keywords are not seen by consumers, but they have a huge impact on organic search performance on the platform.  HINGE COMMERCE leverages our keyword research when we write backend keywords to really maximize SEO performance on Amazon.
Read this case study to see how HINGE COMMERCE used great copywriting to increase sales by 22% vs. year-ago!
What's your reaction?
0
Smile
0
Shocked
0
Cool
0
Sad
0
Laugh