Overall, our expert services clients grew Prime Day dollar sales by +34% (5.5X better than the average sellers on Amazon)!  Many of our clients experienced double-digit or even triple-digit growth vs. last Prime Day. 
Some secrets to our success:
1) We leveraged a variety of innovative Promotion strategies that allowed our clients to showcase a wider selection, run the promotion for the entirety of the event, and promote new products even if the new item was introduced after Amazon's promotion submission deadlines.
2) We developed an Amazon Advertising (AMS) strategy in conjunction with the product promotion strategy, utilizing Sponsored Display campaigns in addition to Sponsored Products and Sponsored Brand Banner and Video advertising.
3) We also ran a test for some of our clients of special Prime Day storefront pages. The results were stunning: strong sales figures and storefront visits showed that the Prime Day storefront pages paired with our Amazon sponsored brand ads worked.
A few success stories: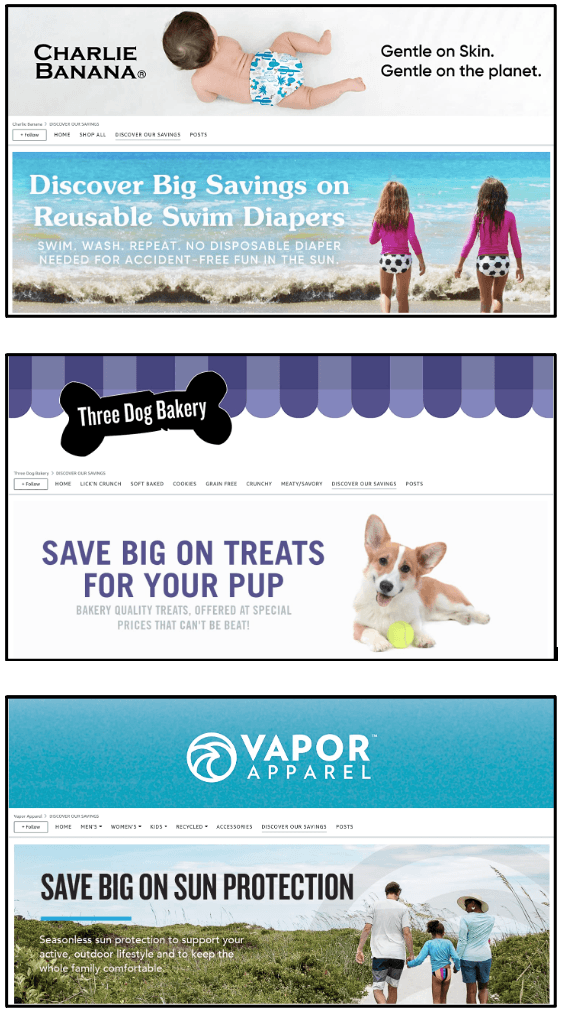 Charlie Banana™ is a brand whose mission is to create a better world for babies by connecting eco-conscious parents to superior, reusable cloth diapers. HINGE COMMERCE grew Charlie Banana's dollar sales for this Prime Day vs. last year by almost 10X! The Storefront + AMS strategy resulted in Charlie Banana™ winning top placement for "reusable swim diaper" and "swim diaper."
Three Dog Bakery™ is a dog treat company that bakes high quality, artisanal, and delicious treats for pups.  Our Prime Day strategies helped deliver a triple-digit increase in dollar sales vs. last Prime Day, and gave Three Dog Bakery™ page 1 placement for "dog treats."
Vapor Apparel™ makes soft and comfortable UV sun-protective clothing. Our Prime Day strategies resulted in over 50% increase in dollar sales vs. last year, a significant increase in conversion rates, and a #1 result for "sun shirt" keyword searches.
"These Prime Day results are incredible. Thanks to the HINGE COMMERCE team for persuading us to give Prime Day serious consideration. The data demonstrate that not only does Prime Day help drive short-term sales, but also drives long-term brand consideration and loyalty. We applaud the hard work and dedication from the entire HINGE team to deliver these results."
– Mark Reidy, Vice President – Charlie Banana (USA) LLC
What's your reaction?
0
Smile
0
Shocked
0
Cool
0
Sad
0
Laugh