On September 15, Walmart will be launching Walmart+, its new subscription program that provides free, unlimited deliveries.  The program will cost $12.95 or $98 per year and includes a 15-day free trial.  Importantly, this service will be fulfilling from Walmart stores, so the selection of products available is limited to items sold in consumers' nearby stores.  This new service taps into Walmart's 4,700 stores, including 2,700 stores that offer same-day delivery.  The program will also provide up to 5 cents off fuel points at Walmart, Murphy, or Murphy Express fuel stations.
The Walmart+ program should help drive Walmart's grocery delivery business.  In the same vein, Walmart is also currently piloting same-day delivery in four stores in California and Oklahoma, in partnership with Instacart.  Walmart's focus on home delivery is a boon for brands that are selling within Walmart stores – this membership service could help drive your business further!  However, the Walmart+ service may not end up competing head-to-head with Amazon, given the limited product selection.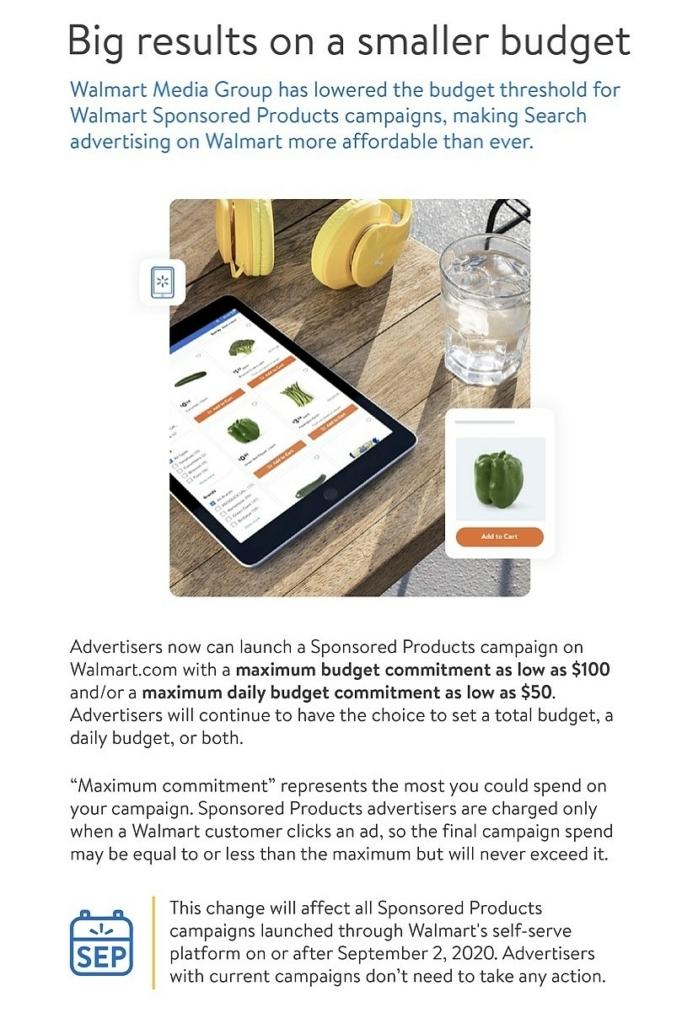 On the other hand, Walmart also just announced that they have lowered the maximum budget threshold for Sponsored Products to $100 for campaigns, and the daily budget threshold to $50.  This means that smaller brands can get up and running on Walmart.com faster and with more flexibility.  (FYI:  The minimum threshold for Amazon Sponsored Products is $1.)
HINGE COMMERCE helps brands accelerate their digital commerce on all marketplaces, synchronizing digital assets across platforms through our partnership with Salsify.  Reach out to us to learn more!
What's your reaction?
0
Smile
0
Shocked
0
Cool
0
Sad
0
Laugh