Q4 holiday peak is the busiest and most profitable time of year for Amazon sellers. If you're feeling behind, don't worry! There are still plenty of things you can do to maximize your sales during Q4, even in November when all the FBA shipping cut-off dates have passed. To help you succeed during this busy time, here are five essential tips:
Last-Minute Tips to Boost Sales:
1. Don't forget about lesser-known promotional event days
In Q4, it's all about Black Friday and Cyber Monday. While these are important, there are other event days to keep in mind and consider promoting and advertising.
Thanksgiving (11/23): Thanksgiving is about family and friends, and food first and foremost. But many shoppers are ready to find deals on this day as well. Consider running promotions throughout Amazon's "Turkey 5" (i.e., Thanksgiving – Cyber Monday).  If you want to reserve your deeper promotions for Black Friday/Cyber Monday, you can still offer select coupons on Thanksgiving to entice early deal-hunters.
Small Business Saturday (11/25): If you already have a Small Business badge on Amazon, consider participating in Amazon programs and events targeted towards this event. You can also create your own promotion and Sponsored Display advertising to highlight your promoted products during this day.
Green Monday (12/11): This is the last Monday that lands at least ten days prior to Christmas Day and is typically one of the largest shopping days in December. Green Monday is especially important in the eCommerce space as this is one of the last days to place an online order to ensure it arrives in time for Christmas.
Pro Tip: Consider a last-minute coupon or promotion on items with excess inventory on Green Monday.
Another Pro Tip: If your products are uniquely suited for Amazon Subscribe & Save (SnS), don't forget about Subscribe & Save coupons. You would offer these coupons based on when your Q4 peak customer is most likely to return to repurchase. For instance, if your product has a 90-day supply, you should consider SnS coupons for the mid-end of February. Subscribe & Save helps brands secure a loyal customer base and consistent sales velocity to build upon.
2. It's almost never too late to optimize your listing for keywords 
It's best practice to allow 30-90 days for keywords to ramp on Amazon A9 search algorithm. With that being said, adding trending terms that your products convert sales on with less than 30 days of ramp time within a peak event period can help boost your listings in the long term. This is because you will have trending keywords on a listing that is gaining relevancy during one of the highest traffic events of the year.
To find the trending terms that your products convert on use Brand Analytics: Search Query Performance dashboard within Seller Central. Sort descending on search query volume, export, and filter on highest purchase rates to identify top keywords that are relevant to your products.
Pro Tip: Pull this report over multiple months to identify trending terms, as the goal is to spot a keyword on the rise and take advantage before your competition does. 
Once you have your list of newly trending keywords, ensure that your listings have these terms either on the front end or back end.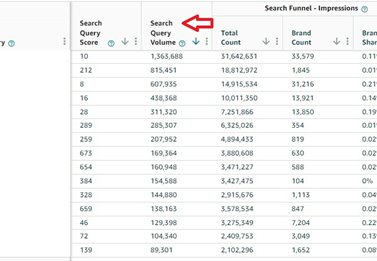 3. Maintain a healthy Amazon account
Maintaining a healthy Amazon account is crucial for your success during Q4. Staying on top of your account health and performance notifications is essential to avoid listing removals, listing suppressions, and stranded inventory. Here's what you need to do:
Go to your Seller Central dashboard and hover over "Performance." Here you'll find the "Account Health" and "Performance Notifications" tabs.
Review your account health metrics and address any potential issues promptly.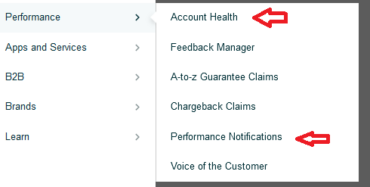 Read your performance notifications carefully and create cases with Amazon Seller Support if needed to reinstate your listings quickly.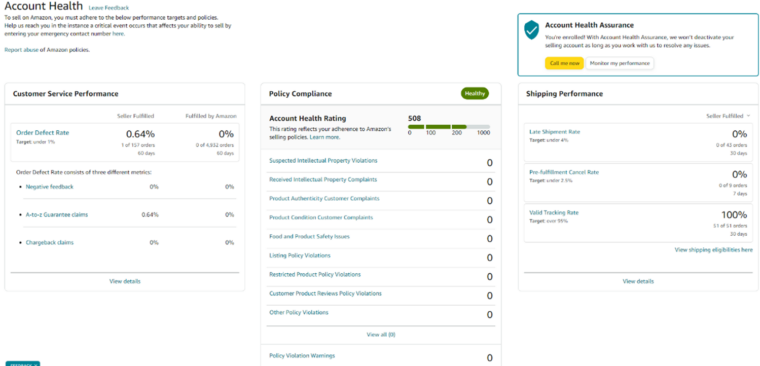 4. Monitor and Fix Stranded Inventory and Suppressed Listings
Stranded inventory and suppressed listings occur when your products are not available for sale on Amazon.
Suppressed listings occur when products are in Amazon's fulfillment centers but are not available for sale because they are missing required information (e.g., images, product titles, descriptions, etc.), have pricing errors, or are restricted ASINs.
To fix suppressed listings:
Click the "Inventory" tab and select "Manage All Inventory." Then, choose "Search Suppressed and Inactive Listings" from the top horizontal menu.


Provide the missing information. If your product listings are missing required information, you can add it to your Seller Central account.
Fix the pricing errors. If your product listings have pricing errors, you can update the pricing to correct the errors.
Stranded inventory occurs when your products are removed from Amazon's search results due to policy violations. Regularly monitor your listings and address any issues promptly to avoid negative impacts on your sales.
Pro Tip: Resolving these types of issues typically involves Amazon Support which may not be as responsive in Q4, so it is critical to check your account daily for errors.
To view Stranded Inventory:
From the FBA Dashboard click the "Inventory" tab and select "Stranded Inventory".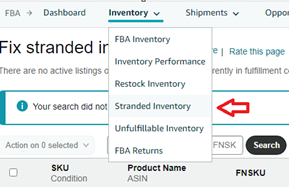 5. Provide excellent customer service 
This is always important, but it's especially crucial during the holiday season when customers are more likely to be stressed and demanding. Respond to all buyer messages within 24 hours and go the extra mile to resolve any issues quickly and efficiently. You can view the buyer messages from the main dashboard on Amazon Seller Central.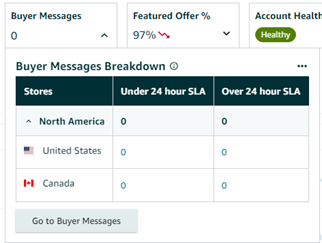 Common Mistakes to Avoid this Q4:
Running out of advertising budget
Sellers should always consider a larger advertising budget in Q4 even if they are not promotional themselves. Other brands and sellers will be promoting and advertising more heavily, driving Cost per Clicks (CPCs) up, which can cause your campaigns to run out of budget and no longer be visible to customers. Monitor and optimize campaigns frequently during the lead-up to, during, and after event days to ensure high ROI campaigns remain live with needed budget levels.
Not monitoring competition
Brands and Sellers should watch their competition for promotional pricing and overall marketing/advertising strategies. Take action where possible to adapt and remain competitive.
Not preparing for higher order volume on peak days to maintain FBM shipping metric thresholds
Often sellers are caught off guard by high-volume days like Black Friday or Cyber Monday, in which extremely high unit sales volume can quickly overwhelm your internal order management team or 3PL causing late shipments or cancellations. When this happens, your Seller Central account can fall out of line with Amazon Shipping Performance metric thresholds. Amazon can then suspend FBM shipping on your account during your critical peak holiday sales period.
Pro Tip: To stay on top of your orders, it's essential to update your notification settings and check your Seller app and Seller Central account frequently. Don't rely solely on "Sold, ship now" emails to let you know you have orders.

Poor customer service
Like above, not preparing for higher-than-normal Amazon Buyer Messages can get sellers into a situation where delays or non-compliant responses cause their account performance metrics to fall below Amazon guidelines. This can ultimately lead to an account suspension if not resolved.
Running out of inventory
Lastly, sellers must have inventory that is available to sell. Given FBA inventory capacity constraints and carrier and Amazon Fulfillment Center (FC) receiving delays, it is common for sellers to experience low and out-of-stock (OOS) situations on their products. Consider a dual fulfillment strategy and provide an FBM backup listing for your top products.
It's time to win BIG!
Q4 is a highly significant period for eCommerce sellers, particularly those on platforms like Amazon.  It's exciting, stressful, and high stakes, but you can maximize your success during this busy time by planning and preparing in advance while also continuing to be diligent throughout the season. Take steps such as accurately forecasting sales, ensuring efficient fulfillment and shipping processes, optimizing your listings for traffic and conversion, offering competitive prices and promotions, monitoring and optimizing advertising campaigns, monitoring account and listing health, and providing exceptional customer service.
By implementing these last-minute tips, you can make the most out of the Q4 period and achieve significant sales growth. Don't let the time slip away – prepare now to boost your sales on Amazon in Q4!
What's your reaction?
0
Smile
0
Shocked
0
Cool
0
Sad
0
Laugh