Amazon Search Analytics – New Feature!
If you are a data geek like us, you'll be as excited as we are to learn about Amazon's new report, Search Analytics. The Search Query Performance report and the Search Catalog Performance report are currently only available in Amazon Seller Central for brand owners who have Brand Analytics in their accounts.
April 8, 2022 - By Kathy Cummins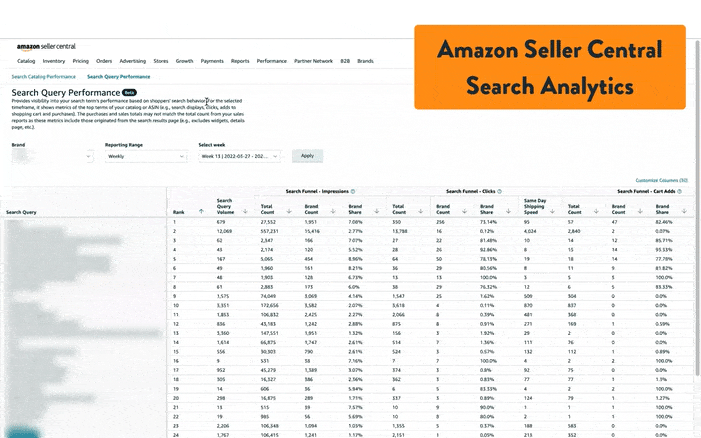 AMAZON SEARCH ANALYTICS/SEARCH QUERY PERFORMANCE
Amazon Search Analytics is a new feature within Amazon Seller Central for accounts with brand registry* and Brand Analytics. Amazon's Search Analytics is a powerful new reporting tool that includes Search Query Performance and Search Catalog Performance.
Search Query Performance

enables brands to see the top search terms for their brand, and the total search impressions, clicks, cart ads, and purchases by search term. Each of these metrics includes the percent brand share, enabling brands to monitor the search terms that they are competitive on vs. not. Importantly, Seller Central accounts with Brand Analytics can use this tool to track their clicks and conversion shares over time – the reporting is available weekly, monthly, and quarterly, going back to October 2021 (Q4 2021).

Search Catalog Performance

shows the number of search impressions, clicks and click-through-rate (CTR), cart adds, and the conversion rate for each product ASIN in the brand catalog.
HINGE COMMERCE is already leveraging Amazon Search Analytics to enhance our copywriting and organic search performance, as well as the sponsored advertising performance for our clients! Reach out to us to learn how we can help you.
We can't wait to see this reporting on Vendor Central too!
*Note Brand registry is where Amazon sellers have completed the necessary documentation to confirm that they own the brand. If you are not able to access Brand Analytics from your Seller Central page, reach out to HINGE COMMERCE to help you set up your brand registry.
Product reviews drive eCommerce sales.  HINGE COMMERCE's listing quality audit data shows that the number of product reviews has the ...
Read More

→
This year marks the biggest Amazon Prime Day (July 12-13, 2022) in Amazon's history.  eMarketer reported that US Amazon Prime Day 2022 ...
Read More

→
New Promotion Event:  Fall Prime Day The dust hasn't even settled yet on this week's record-breaking Amazon Prime Day event, ...
Read More

→