Sophisticated companies recognize that to drive sustained online growth requires an army of dedicated experts, as well as leveraging purpose-built technology. With the ever-increasing complexity of eCommerce marketplaces such as Amazon, Walmart.com, Target+, and others, it is simply not cost-efficient to build and maintain a robust internal eCommerce team and infrastructure.
The solution is to leverage an eCommerce agency that operates as an extension of your own team. The key steps to ensure success are:
Select the right agency with the experience, technology, and proven track record,
Build the right incentives for the agency to reward business ownership,
Put the right leader on your team to oversee the work and ensure transparent communication, timely action, and agile problem-solving.
---
CASE STUDY:
Levinsohn Textile Company is a third-generation, family-owned business, founded in New York City in 1941. They began as an importer of fine European fabrics and have since grown into a leading source for home fashion and bedding. Levinsohn sells in over twenty different retailers across both brick-and-mortar and digital commerce, including on Walmart, Wayfair, Macy's, Target, and many more.
Levinsohn has been selling wholesale on Amazon since 2019. Although they were working with an Amazon Vendor Manager, Levinsohn was not getting sufficient support or strategic consulting from their Amazon 1P manager. To step-change their business, Levinsohn decided to turn to HINGE COMMERCE. HINGE has been working with Levinsohn since September 2020. In just six months, HINGE has more than doubled dollar sales (+111%) versus year-ago, and organic sales are up +125% vs. year-ago. Conversion rates have improved by +152%.
HOW DID WE DO IT?
Unfortunately, there is no "Easy" button with eCommerce. Every marketplace is different, and each one has its unique requirements and specifications. To increase Levinsohn's sales on Amazon, HINGE worked through a myriad of activities. What really made all the difference to us was the close partnership of the Levinsohn team, open communication across organizations, and everyone's agile responsiveness.
Some of HINGE COMMERCE's activities to drive Levinsohn's business included: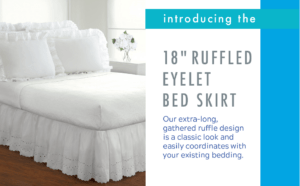 Cleaning up 623 listings including fixing stranded listings
Consolidating 400+ child ASINs into 50 parent ASINS (which eliminated 110 parent ASINS). This action makes it easier for consumers to shop, improves organic search rankings, and improves bestseller rankings.
Optimizing copy and keywords for 295 listings
Adding or optimizing 1,188 images. We also created 14 enhanced brand content (A+ content) to improve conversions.
Expanding Advertising PPC campaign targets, added keywords, and incorporated Sponsored Brand Videos.
CLIENT TESTIMONIAL:
Adam Levinsohn, President of Levinsohn Textiles said:
"HINGE COMMERCE really is an extension of the Levinsohn business team.
They operate with a strong sense of business ownership, creative problem-solving,
and a genuine passion for our business. Importantly, they bring eCommerce expertise
and focused attention that I really value. (I know that they spend countless hours
simply working to resolve open cases with Amazon.) I love how they are helping
us not only grow our top-line sales, but also think strategically about our profitability,
our innovation pipeline, and our channel strategies.
Thank you to everyone at HINGE who touches our business."
What's your reaction?
0
Smile
0
Shocked
0
Cool
0
Sad
0
Laugh