Hinge Axis is a unique all-in-one eCommerce management software, enabling large and small Amazon sellers to streamline all of the daily tasks necessary for a successful Amazon business.  Hinge Axis supports US and Canada Amazon Seller Central and Vendor Central, spanning all the necessary functionality to run daily eCommerce operations.
Key features include:
Providing decision-makers with tools that enable easy tracking and analysis of  real-time performance on Amazon, via easy-to-read graphs that integrate over forty different metrics, across two years of SKU-level (child ASIN-level) history

Enabling Customer Service teams to read and respond to Buyer-Seller Messages, including incorporating standardized response templates

Providing Catalog Managers with easy-to-use tools to manage product listings from a single repository, including product images and videos, sales pricing and discounts, and all required product information. They can then automatically publish the information to Amazon with a single click.

Expediting resolution of Cases on Amazon. Hinge Axis Case Management enables teams to track the status of all the Amazon Cases from a single view, and respond to Amazon directly from the platform.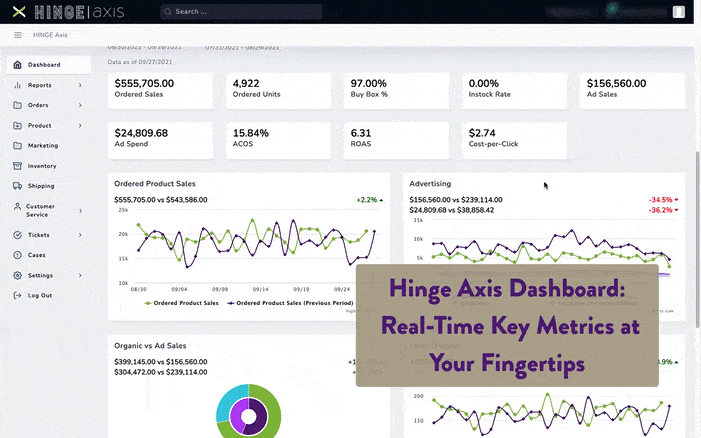 The Amazon Seller Central Partner Network is a one-stop-shop where the small and medium-sized businesses that sell on Amazon can more easily discover quality applications to help them automate, manage and grow their business. Accessible from Seller Central, the Amazon Seller Central Partner Network features applications and service solutions created by Amazon and external software or service partners and covers a range of functionalities across the selling lifecycle. 
HINGE Axis' Advanced Reporting feature is **FREE**.  This critical brand owners and executives to easily monitor two-year business trends, keep an eye on Key Performance Indicators (KPIs), and quickly diagnose the factors driving their business.
To learn more, visit HingeAxis.com.  Book a live demo of Hinge Axis, or email contact@hingeaxis.com.
What's your reaction?
0
Smile
0
Shocked
0
Cool
0
Sad
0
Laugh